If you have done any stand-up paddle boarding (SUP) while on vacation or with friends who are paddle boarders, then you might be interested in getting yourself a new standup paddle board.
Paddle boarding beginners can easily get overwhelmed when shopping for a good SUP because there is a lot involved in choosing a good stand up paddle board.
And if you end up with a low quality board, then you'll hate SUPing – that's why we want to help you make the right decision.
Some of the features that you need to consider are the board's size, weight, capacity, and volume.
Before heading out to purchase your new SUP, first familiarize yourself with the different types of SUPs that are available for you to choose from when selecting a new paddle board.
We'll also share some of our top recommendations for beginners like you. If you're just looking for a board to get started, our list of the best beginner SUPs for 2022 are below.
Our Top 10 Best SUPs for Beginners
we've based our picks on this list on value, maneuverability, and versatility
PHOTO
BOARD
NOTES

Editor's Pick

Editor's Pick

Pau Hana Malibu Classic Stand Up Paddle Board with Paddle – 10'6

Ideal for everything from touring to surfing
Comfortable and durable board; perfect for entry-level paddlers
Weight limit: 249 lbs capacity

Best Price at REI

Our Inflatable Pick

Our Inflatable Pick

NRS Thrive Inflatable Stand Up Paddle Board – 10'3

Ideal use: touring, fitness and light river runs
Bundle includes a high-pressure pump with pressure gauge, three Allwater fins, one Touring fin, carry bag and repair kit.
Three-year warranty

Best Price at NRS

Budget Pick

Budget Pick

BIC Sport Performer Air Inflatable Stand Up Paddle Board with Paddle – 10'6

Great all-water board; perfect combo of performance and stability

Comes with adjustable paddle, leash, high-pressure pump with gauge, fin, repair kit and oversize backpack-style bag

Ideal for beginner and intermediate paddlers up to 200 lbs

Best Price at REI

Also Recommended

Also Recommended

Tower Paddle Boards Adventurer Inflatable 9'10 SUP

400 lbs weight limit capacity

Buy at Amazon

Also Recommended

Also Recommended

Red Paddle Co Ride Inflatable Stand Up Paddle Board – 10'6

Comes with Titan Pump, repair kit, water-resistant phone case and All Terrain backpack

Performs well in most water conditions.

Best Price at REI

Also Recommended

Also Recommended

Pau Hana Moonmist TPU Inflatable Stand Up Paddle Board with Paddle – 10′

Comes with the Pau Hana Moonmist 3-piece fiberglass paddle, bag, pump, fin and repair kit

Weight limit: 260 lbs capacity

Best Price at REI

Also Recommended

Also Recommended

Ten Toes WEEKENDER 10-Feet Inflatable Standup Paddleboard SUP

Bundle comes with indestructible iSUP, 3PC adjustable & lightweight aluminum paddle, 3 fins, manual pump, & repair kit

Buy at Amazon

Also Recommended

Also Recommended

Boardworks SHUBU Kraken Inflatable Stand Up Paddle Board – 10′

Includes: roller travel bag, Bravo 4 pump and patch kit

Best Price at REI

Also Recommended

Also Recommended

PEAK Inflatable Stand Up Paddle Board

Includes: Adjustable 3 piece alloy paddle nylon blade (yes, it floats), Travel backpack, 10 ft coil ankle leash, GRI high-pressure dual action 15 PSI pump with gauge, 9-inch nylon snap-in center fin. Bonus waterproof smart phone carry case.

Buy at Amazon

Also Recommended

Also Recommended

Boardworks Muse Stand Up Paddle Board – 10'6

Performs well in flatwater; plus, it's great for SUP yoga and taking on light surf

Best Price at REI
Different Types of Stand Up Paddleboards (SUPs)
When you start looking at SUPs, you will notice that they are available in two main style types, as well as in two different design types.
The two different design types are:
inflatable boards
rigid/hard board
When it comes to style, the most common two options are:
racing/touring SUPs
all arounder SUPs
Note that while these are the two main types, they are not the only types of SUPs. To help you determine which type is best for you, let's look at all your options.


Race, touring and downwind SUPs: The front end (bow) of this type is pointed and the hull is rounded, like a kayak.
This is your longer type of SUP, with most of this type coming it at either 12'6″ or 14′ in length.
The pointed bow makes the SUP more efficient so that you do not have to expend as much effort to paddle.
One thing to remember about this type of paddleboard is that it is generally more narrow than the other types.
For that reason, it is important that you choose one that gives you a stable base.
This type is best for:
competitive paddleboarders
All arounders: If you want something more like a traditional surfboard, then this is your best bet.
In fact, this is the perfect type of SUP for beginners.
In terms of size, this type ranges between 10′ to 12′ in length and ranges from 29″ to 36″ in width.
This type is best for:
paddleboard beginners
fishing from the paddleboard
paddleboarding on a calm lake
paddleboarding near the shore
Hybrid SUPs: Hybrid paddleboards are the most versatile type as you can stand on them or use them as a sit-on-top kayak.
Some SUP hybrids are equipped with a deck hatch so that you can store your gear if you're on a long trip.
This type of SUP is best for:
fishing
light surfing
easy paddleboarding
Surfing SUPs: If you want to do surfing with your SUP, then definitely go with this type as that is what it is designed for in terms of use.
You can choose between a wide, stable all-arounder SUP or a shorter, narrower SUP. The wider option is best for those who are new to surfing because they are perfect for just paddling in some waves.
The narrower models are better for experienced surfers, otherwise it can take some time to master their smaller size.
However, do know that the smaller, narrower models are easier to maneuver in the water.
SUPs for kids: Got a little one who wants to go out paddleboarding with you?
There are several different types of kid's SUPs available for the rugrats.
An 8' long all-arounder is a good short board for kids who want to paddle on their own.
This size board is a little easier for children to carry and maneuver.
Of course, an inflatable SUP is another good option for kids since they offer a little cushioning for falls and are incredibly lightweight.
SUPs for women: Since stand up paddle boards can be a bit on the heavy side, especially when trying to lift one above your head to secure to the rack on top of your vehicle, manufacturers offer some options for women that are lighter.
Teens and adults who want a lighter board can also use this type of standup paddleboard.
If you check out any of these ultra-light SUPs, then you will notice that some of them feature a narrow mid-section.
This feature is designed to make it easier to reach both the deck handle and opposite side of the board.
The people over at StandUpPaddlingTV give a great summary of this section in the video below.
Give it a watch before continuing reading to learn more about how to choose the best SUP.
Inflatable vs Rigid Paddle Boards – Which Is Better?
If you've decided that you want to take up stand up paddle boarding, then you first need to determine if you want to go with a traditional rigid SUP or an inflatable SUP.
Each has their benefits and disadvantages, which makes the choice entirely a personal one.
Though I am a big fan of iSUPs (see my favorite iSUPs here), I want to share some of the advantages and disadvantages of each type of stand up paddle board.
The easiest way to do this is to go through a few different topics.
How will you store your board?
When it comes to storage, nothing beats the iSUP since you just deflate it, roll it up and slip it into the carrying back.
You can easily put this in a closet or a car trunk without taking up a lot space.
If you have a hard board SUP, then you need a rack to store it on in your garage. This can be a problem if you live in a small apartment or condo.
How will you transport your paddle board?
Like storage, when it comes to portability it is hard to be the inflatable stand up paddle board because it will easily fit in even the smallest of cars.
But if you have a traditional board, then you need to be prepared to transport it on a roof rack on your vehicle.
And of course, it won't be possible with all vehicles, so that is something to keep in mind.
What type of water will you be out in?
Generally speaking, you get a bit more stability from a traditional hard stand up paddle board than an inflatable one, however that is not always a good thing.
For instance, if you're taking it out into some rapids then you will benefit from the give that an inflatable stand up paddle board offers.
Basically, you need to go with the SUP board type that reacts best for the type of water you'll be using it in.
When you're primarily going to be in fast moving and shallow water, then an iSUP is the better option.
For deeper water that isn't moving as much, a traditional solid paddle board is the better option.
This doesn't mean that you have to use these board types in the listed water types, just that they perform better in those.
And if you plan on being in different water environments, then stick with an iSUP as it is more versatile.
What's your budget?
If you are buying based purely on cost, then you should stick with an inflatable stand up paddle board as they consistently offer the best value for the money.
For the same specs, it will cost you more for a hard SUP than an inflatable one.
Plus, the iSUP holds its value if you want to sell it secondhand at some point in the future.
In the end, you need to select the board type that best meets your lifestyle.
Use the info above to come to a conclusion on whether an iSUP or a standard hard SUP better meets your needs.
Best Beginner SUPs Reviews
If you're taken a look at our recommended boards above, but you want a little more info, then this is the spot for you.
Below we go through some of our favorite stand up paddle boards for beginners and let you know what we like and don't like about these models.
The opinions you see below are those of the site editors.
NRS Thrive Inflatable SUP Board 10'3″
If you're not already familiar with the NRS brand, then let me assure you that they make some high quality outdoor gear.
And their Thrive line of SUPs has been a favorite for years now.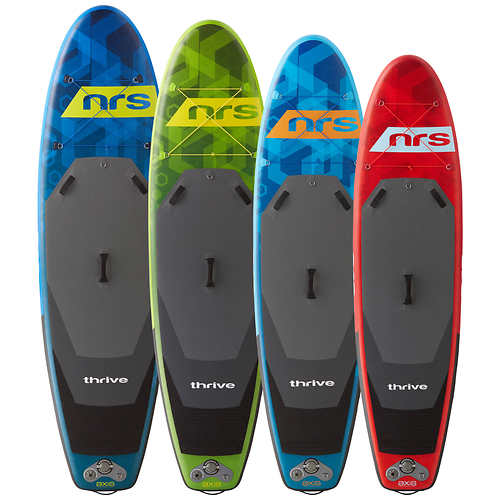 You'll notice that you can get this board in a few different sizes, but for beginners we suggest that you go with the 10'3″ bundle at NRS.
This size gives you great stability and all around performance out in the water – exactly what a beginner needs.
If you're taken a look at the cost of some of the other boards that we recommend, then you'll notice that this one has a higher cost than most.
Don't let that turn you off!
This inflatable SUP is high quality and works well in lots of different water conditions and you can continue using it even when you're past being a beginner out there.
Reasons to buy:
High quality SUP that will last for years
Package bundle that includes carry bag, pump, repair kit, three Allwater fins, and one Touring fin
Good stability
Lots of space for your gear and dog
Ideal for: All-around, Fitness, Flatwater, Adventure, Touring, and Yoga
Free shipping from NRS
Reasons not to buy:
Higher cost than most beginner boards
Low weight limit on the 10'3″ model at 200 lbs
$20 surcharge for oversized item delivery
Pau Hana Malibu Classic Stand Up Paddle Board – 10'6″
If you want a rigid SUP that is ultra durable and can handle pretty much any water situation, then look no further than this sweet looking paddle board from Pau Hana.
While you have likely never heard of the Pau Hana brand, they're actually pretty great and have some street cred in the industry.
Started by a competitive athlete and paddle surfer, the brand has been recognized for their awesome boards by Outside magazine.
This Malibu Classic model SUP is an excellent choice for a EPS foam core stand up paddle board.
We recommend this one for beginners because it performs well in lots of different water conditions and because it's one of the most durable SUPs on the market right now.
Vacuum Formed Technology (VFT) and ABS plastic sandwiched around the EPS core makes the board incredibly durable.
Oh, and it's got Kevlar reinforcement on the rails. This thing is seriously hardcore.
Reasons to buy:
Most durable SUP on the market
Comes with the Malibu adjustable aluminum paddle and fin
Affordable cost for entry-level paddlers
Decent weight limit at 249 lbs
Ideal for everything from surfing to touring
Features SeaMount®, an accessory attachment system that makes it really simple to add cup holders, paddle clips and easy-to-thread bungee tie-downs
Reasons not to buy:
At 4-inches thick, not as stable as some thicker boards
As a hard board, it's a bit heavy at 31 lbs
BIC Sport Cross TOUGH-TEC Stand Up Paddle Board – 10′
A popular SUP brand known for good value and performance, this solid body stand up paddle board is another great choice for first-time paddle board owners.
Though more widely known for making ink pens, BIC is one of the top brands in the low cost SUP market these days.
The 10 ft. BIC Sport Cross TOUGH-TEC stand up paddle board is a great choice in a hard body board if you want stability and comfort at a decent cost.
You get a lot of surface space, which is great for doing SUP yoga or bring along your little dog or extra gear.
This board has a whopping six attachment points, compared to the normal four, which is great if you want to do some SUP fishing.
Overall, you get a nice smooth ride and good performance out of this all arounder model that makes it a great option for beginners.
Reasons to buy:
TOUGH-TEC construction features a molded watertight EPS foam core that is sealed in a thermoformed protective polyethylene skin for maximum durability.
It has 6 attachment points for gear (instead of normal 4)
Lots of surface space thanks to full rail-to-rail volume enhances stability for a dry ride and allows maximum use of the entire deck.
Includes tool-free FCS II 9 in. touring removable center fin
Performs well in most water conditions
Already setup for SUP fishing
Low price for a hard body SUP
Reasons not to buy:
The weight limit is 220 lbs, which isn't terrible but could be better
As a hard board, it's a bit heavy at 32 lbs
ISLE Airtech All Around 10'6″ Inflatable Stand Up Paddle Board
Another Active Weekender favorite for a few years now, the ISLE Airtech SUP is a great choice for beginners looking for a stable board at a good price.
Headquartered in Southern California, ISLE has built a strong reputation on making quality paddle boards at affordable prices.
This all arounder inflatable SUP performs well in lots of different water conditions from flat water paddling to to small waves SUP surfing.
I like that the weight capacity on this one is a bit higher than most, with a 240 lbs weight limit.
It's tough to find a beginner paddle board that supports heavy people and this is a decent choice if you're under 250 lbs.
Reasons to buy:
Affordable entry-level cost for new paddlers
Part of a package that includes 3 Piece Aluminum Adjustable Travel Paddle, High Pressure Pump & Gauge (Inflates to 15 PSI), Removable Travel Fin and Repair Kit
Decent weight limit at 240 lbs
Durable design
Very stable thanks to 6-in thickness
Performs well in flat water, river runs and small waves.
Reasons not to buy:
Included pump isn't the highest quality and you'll probably want to replace it
Some paddlers have experienced seam failure on the board
ISLE Versa Rigid Epoxy 10'5″ Standup Paddle Board
Though the inflatable SUP by ISLE above gets high marks from the editors here, we're actually bigger fans of the hard body SUPs they make, like this one.
This performance-designed epoxy paddle board from ISLE has enough stability to be an entry level board, but will accommodate your growing skill set and expertise on both choppy and flat water.
It handles well in most water conditions, including small and medium waves, while offering the secure stability that beginners need to feel comfortable out in the water.
Since it is a rigid hard body SUP, it does have a more generous weight limit for riders, up to 275 lbs capacity on it.
The new comfort brushed deck pad is non-abrasive when knee paddling or relaxing on the deck and will benefit you during those long paddles.
The Lift SUP handle has made transporting a breeze and gives you a solid center grab point that anyone can use which doubles as a locking point to protect your board when you're not around.
This entry level paddle board is also equipped with a front bungee so you can keep your cargo accessible and secure at all times.
Constructed with Thermal Molding Technology, these boards have a much more durable outer shell and the speed finish is less weight and looks amazing.
If you are looking for a great paddleboard that is stable and can be easily controlled, the Versa board is an excellent choice for you.
Reasons to buy:
More generous weight limit of up to 275 lbs
Includes Traction Pad, Adjustable Carbon Shaft / Plastic Blade Paddle, and Center Fin
Ideal for or paddle board yoga, surfing , fishing, carrying kids and beginner to intermediate skill levels.
Thermal Molded Technology makes it ultra durable and more lightweight than most rigid SUPs
Only weighs 27 lbs
Affordable cost for a solid body SUP
Reasons not to buy:
Not quite as high quality as some of the more expensive hard body SUPs
Retrospec Ten Toes Weekender 10′ Inflatable Stand Up Paddleboard
If you've been here before, then you know this Weekender iSUP has been a favorite for a few years – and it's not just because we share a name!
It's just a decent iSUP for beginners on a budget that we like to recommend.
This inflatable SUP is a good choice for beginners because it offers stability and durability.
Like most inflatables on the market, it's made from military-grade PVC to make it tough enough to handle going over rocks.
We like that it's got a thickness of 6-inches, which means ultra stability out on the water.
And, the price makes it one of the more affordable options for a beginner looking for a cheap paddle board that doesn't sacrifice quality.
Reasons to buy:
Affordable low price for a quality entry-level iSUP
Stable due to thickness of 6-inches
Part of a package that includes 3-piece adjustable & lightweight aluminum paddle, 3 fins, manual pump, & repair kit
Performs well in most water conditions
Weight limit capacity up to 275 lbs
Reasons not to buy:
Electric pumps don't fit the nozzle, which means you have to use a manual pump
The included pump is poor quality, which means you need to buy your own
Quality is hit or miss – you can order two of the same boards and they might not have the same quality.
Adventure Paddleboarding All Rounder MX Stand Up Paddle Board – 10'6″
If you want a rigid SUP that comes in at a decent price, then consider this 10'6″ model from Adventure Paddleboarding.
You can take this SUP out on all different types of water conditions and expect for it to perform well.
Though it excels in flat water cruising, it's capable of playing in waves with success.
We love this SUP for beginners because it has a lot of stability, thanks to its generous width and low rocker.
And since you buy it at REI, you get a great deal on it with the REI member rewards program.
Reasons to buy:
Good stability
Affordable price
Works well in most water conditions
Lightweight for a solid body SUP at just 24 lbs
Additional nose plugs let you create a forward storage zone, plus a bonus nose plug for mounting a GoPro camera
Reasons not to buy:
Low capacity weight limit of 195 lbs
ISLE Cruiser Soft Top Stand Up Paddle Board
Another good choice from ISLE is this solid body SUP, which is a great all arounder board that's good for entry-level paddlers.
Like the other rigid SUPs from ISLE on our list, you get good stability and a comfortable ride from this board.
It does well in most water conditions, and comes it at an entry-level price that fits most budgets.
Reasons to buy:
Comfortable soft top deck
Stable ride out on the water
Performs well in most conditions, from flatwater to small waves
Includes Adjustable Paddle (Floats), Center Handle, and 9″ Center Fin
Reasons not to buy:
Somewhat low capacity weight limit of 235 lbs
Straps can leave indentations in the board
Material not quite as high quality as a polyurethane board
The 4.5-inch thickness not quite as stable as some other boards
ISLE PEAK Inflatable Stand Up Paddle Board Package Review
Introducing the ISLE PEAK inflatable stand-up paddle board (iSUP) of your dreams.
When fully inflated to 15 PSI, this paddleboard measures 10'6 x 31″ x 6″.
Rolled up, it measures 11″ x 36″, and its board weight is a mere 23 pounds.
Once you've experienced how incredibly fun riding this paddle board is, you'll never go back to other, heavier paddle boards again (and neither will your family or your partner)!
Many people falsely assume that a paddle board is simply a paddle board.
Then they'll come into contact with our product.
Designed by ISLE Surf & SUP, the premier industry leader in the manufacture of paddle boards, this stand up paddle board amps up your activity level while giving you the addictive experience of feeling that you are gliding above the water.
When you add all the items in the accessory bundle.
Santa won't have to come to your house this year, because you just won't need anything else for a while!
Features
iSUP has a stable, rigid shape, and is the perfect paddle boat for every skill level and weight – Beginner riders up to 300+ pounds are supported
Non-slip full traction, and a user friendly deck mounted bungee system for carrying a reinforced nose mounted handle and extra gear
A tall mounted D ring is included to make tying to boats or docks a snap
It takes 5 minutes or less to pack down the paddle board and its accessories – Plus the fact that it can be stored comfortable in practically any tight space
Paddle floats are an adjustable 3 piece alloy – Extends 65″ to 86″
Included in the accessory bundle are the following items – A coil ankle leash, an SUP carry back pack, a removable travel fin (which doesn't require a tool) and a high pressure dual action pump which has a pressure gauge which inflates to 15 PSI
Every item mentioned above fits effortlessly into the travel back pack
What We Like About It
ISLE has been in business since 2004 and was born and raised on San Diego, California water
Constructed of tough 6″ military grade – Throw your worries out the window. This paddle board won't get those dings or damage that are so common with hard epoxy boards
Throw this baby off the roof or run over it with your car – Its military grade PVC and drop stitch material is practically impossible to damage. Plus you'll have a more durable, stiffer iSUP board without any excess weight
Go right ahead and ram into a pier or some rocks – No damage will be evident
Comparable 4″ thick models are much less rigid and stable than our 6″ model
One year warranty plus a 30 day money back guarantee – If you don't love it when you ride it, just return it within 30 days for a full refund, no questions asked! The one year warranty covers any defects in workmanship or materials
These boards are perfect for SUP fishing, SUP yoga enthusiasts, carrying extra passengers or kids, carrying dogs or any other furry friend, and for weekend recreational paddlers
When it's fully inflated, it has very little flex, and no-one can tell it's an inflatable!
The tie downs in front are super cool
Buy the additional electric pump that plugs into your car battery, especially if you are small
Having an inflatable is much preferable to having a hard board on a rack – Boards transported on hard racks are exposed to damage and possible theft
The paddle breaks down to two equivalent pieces, making it easy for travel
This paddle board is ideal for beginners
What we didn't like about it
The mechanism to un-attach or attach the main fin could be improved so that set up time can be increased
The pump is adequate, but there's always room for improvement
Even though the paddle is attachable and of high quality, it's heavy – Folks will probably want to upgrade to something lighter
Inflatables are more susceptible to not tracking straight very well
Can be a bit clunky in the water, and the black center pad absorbs heat and gets hot in the sun
The Verdict
This is a great inflatable paddle board, and it is economically priced.
If you want to upgrade, there's the Touring Airtech Inflatable Paddle Board or the Explorer Airtech Inflatable Paddle Board.
For women, there's the Women's Airtech Inflatable Paddle Board, that has smart storage and an extra sturdy base.
All things considered, we highly recommend this item!
Tower Adventurer 9'10" Inflatable SUP Review
If you are in the market for a new inflatable stand up paddle board, then this SUP by Tower is an excellent choice.
One of the reasons that I love it is because it is a great value SUP for the money.
You get a high quality, super durable inflatable SUP, a three-piece paddle and a pump all for the same low price. 
So, be sure to check the current price at lots of stores before you buy.
But enough about the cost, let me tell you what I really like about this Tower SUP and why it makes a great choice for an inflatable SUP.
What I Like and Dislike About This iSUP
Versatility is probably the number one thing that this board has to offer.
And for the price, it's hard to find a better value for the money.
I like that I can buy just this single stand up paddle board and use it in variety of different ways and water settings, which means that I don't have to keep more than one board.
I also like how great this inflatable stand up paddle board is for beginners.
When I was just getting started, it was one of the first ones that I came across and it is just a really great experience when you're new to SUPing.
The board is very stable and wide, which means that it is easy to learn how to balance on one of these, which can be challenging at first.
The high weight limit on this board is also a nice feature.
Many of the cheap iSUPs have weight limits a lot lower than this one.
But with the Tower Adventurer weight limit of 350 pounds, you can often get two people on the board, or take out a dog with you.
I've even seen three smaller kids on one of these with no problems at all.
One of the things that I dislike about this board is that if you want to use an automatic pump with it (instead of included hand pump), then you first have to find an adapter that will fit it.
Sure, the included pump is actually good quality but I hate how long it takes me to pump with it – plus, my arms get tired using it and I don't want to start out in the water with tired arms.
Overall though, it only takes me about 10 minutes or so to get it fully inflated, so it's not the end of the world.
I also with that it came with a carry pack for those times when I want to travel with it.
I ended up just getting an over-sized duffel to carry it in, but I'd prefer to have a carry pack that fits it better.
But, that's not really a huge deal since you can buy something that you like on your own. A Tower branded bag would be pretty nifty though.
As someone who likes to take a few things out on the water, I really like that this board has a few d-rings on it where I can attach things like my waterproof camera bag and water bottle to.
Yes, I am a bit clumsy and if I couldn't attach them, then they'd probably end up at the bottom of the lake.
The paddle that comes with this board is functional and works fine, but if you're going to turn this into a serious hobby then you'll likely want to upgrade to a better one.
I ended up doing that after a few months and it was a good decision.
Now, I just keep the original paddle as a backup in case something happens to the one that I'm using now.
If you've ever been on a rigid hard board SUP, then you're probably going to notice that this one doesn't move as fast through the water.
Unfortunately, that is just the difference between inflatable and solid SUPs.
Tower Adventurer 9'10" Inflatable SUP Features
If you look in the photo above, you will notice that this stand up paddle board is large enough to hold two people – or one person and a dog.
That is a big plus for me as I like having company out with me on my SUP.
The size of this board also makes it a great choice for doing pilates or yoga on your SUP.
Another thing that you can see in the photo is how small and compact this thing is when it is deflated and rolled up.
In fact, it is the perfect size to fit into a backpack, which means easy storage and ultra portability if you want to travel with the SUP.
I'd love to take mine out to Lake Tahoe, but I haven't had a chance yet!
While you can easily see how long this board it, you might not know that it is a crazy 6″ thick!
That means that this baby is super rigid and super durable.
I know that is probably not something that you'd expect from an inflatable board, but this is a high quality SUP and not some flimsy inflatable pool raft!
Don't worry though if that is what you're thinking, because I was skeptical of inflatable SUPs at first too until I actually saw one up close for the first time.
Before you get this, do know that the pump is a hand pump, which means that you have to use those arm muscles to inflate the SUP.
Sure, one that plugs into your vehicle and does it automatically for you would be ideal, but I find that inflating it doesn't take all that long.
You also need to know that the paddle itself does not float. Just worth pointing out that if you drop it, then it just might sink to the bottom of the lake.
This SUP has a great 2-year warranty that covers everything but normal wear and tear.
Tower makes great SUPs though, so do not expect to have to use the warranty.
Specs at a glance:
EXTREMELY RIGID – Weight limit of up to 350 lbs on the water. When fully inflated, it feels very similar to a hard board (can be inflated up to 15 PSI -but is stiff and ready to ride at 10 PSI)…
HIGHLY DURABLE – Military-grade PVC material and drop-stitch construction. Never worry again about dings and board cracks..
PORTABLE – Easy to store and transport. It is 9'10" x 32″ x 6″ inflated and only 1 foot in diameter and 33″ wide when rolled up..
PACKAGE DEAL – Includes board, pump, and 3-piece adjustable aluminum paddle..
2-YEAR WARRANTY – 2-year manufacturers warranty which covers everything outside of normal wear & tear.
More Details About This iSUP
Now that you know all about the features of the Tower Adventurer 9'10" Inflatable SUP, let me answer some questions that you might have.
These are some of the same things that I wanted answers to at some point, so hopefully they will help you to make a decision.
Can I use a leash with the Tower Adventurer 9'10" Inflatable SUP?
If you prefer to use a leash when you are out on your inflatable stand up paddle board, then this SUP is a good option.
You can definitely use a leash with it.
It has an attachment point on the front and rear for ankle and paddle leashes. The attachment points are sturdy d-rings.
Is there a weight limit for the Tower Adventurer 9'10" Inflatable SUP?
Yes. In the water, the maximum weight that this board will hold is 350 pounds.
So large guys can use this inflatable SUP, as long as they are under that weight limit.
How easy is the Tower Adventurer 9'10" Inflatable SUP to deflate and will it fit into a carry-on bag?
Deflating this Tower SUP is actually very easy.
It only takes one person to deflate it and you can do it in under five minutes.
To put it in a bag, you need to roll it lengthwise, but it still is around 30 inches or so in width.
So, you need a large backpack or other type of carry-on bag.
This is mostly due to the permanent fins and mount preventing you from getting a tight roll when you roll it up.
Once you get it in a bag, you are looking at it weighing around 40 pounds, which is too heavy for a carry on with most airlines.
So, if you plan on flying with this SUP, you will likely need to check it in at the airport instead of trying to carry it in your hand luggage.
Does the Tower Adventurer 9'10" Inflatable SUP have a stabilizing fin?
Yes, this SUP actually has a total of three fins.
The largest fin is removable so that you can detach it when you roll up the SUP or when you are in shallow water.
Re-attaching that fin is super easy too.
Can you use the Tower Adventurer 9'10" Inflatable SUP to ride waves in the surf?
Yes, this is quite the versatile standup paddle board.
But, like any new sport, it does take a bit of practice to ride the waves on this board.
Of course, if you have experience surfing, then it will be quite a bit easier for you.
Does this board come with its own bag?
No, unfortunately this Tower inflatable stand up paddle board does not come with a bag for carrying or storing it.
The good news is that is rolls up small enough to fit in a large backpack or duffel bag.
So, there is no real need to get a specialized SUP carrying bag for this one when any large bag that you already own will work just fine for both storing and carrying the SUP.
How do I get the air pump to attach to the inflatable SUP to air it up?
First, be sure to only use the air pump that comes with the board or you will risk over-inflating the SUP.
To get it all aired up for the water, take the end of the hose on the pump and attach it to the board's air valve by pushing down and turning the pump hose attachment clockwise.
This sets the air hose to the valve on the board.
After you do that, you are ready to start the pumping action to get it all aired up.
What is the paddle made out of?
The paddle that comes with this SUP has an aluminum shaft and a plastic/nylon paddle.
While you might think it will be hard plastic, it actually does have some flexibility to it.
Additionally, when you fully extend the paddle it is over 6 feet in length.
How much does the Tower Adventurer 9'10" Inflatable SUP weight?
You are looking at around 26 pounds for this SUP.
The weight is distributed well though, so it is not an awkward carry when it is inflated.
Is this is a good paddle board for beginners?
This Tower inflatable standup paddle board is a great SUP for beginners!
The nice thing about it is that is also good for paddlers who are advanced or intermediate paddleboarders.
In short, this is a great SUP for learning how to paddleboard as well as for when you get the skills down – you'll probably just want to keep the board then since it is great one.
And if you are not yet convinced that the Tower Adventure is the best inflatable stand up paddle board for you, then check out our list of the best inflatable stand up paddleboards for the money.
Board Width and Maintaining Your Balance On A SUP
When you are looking for a new paddle board, you want to be sure that you are shopping for a SUP that gives you good stability so that you can easily maintain your balance out in the water.
The single best way to know if you will get good stability from a board is the width of the stand up paddleboard.
In terms of width, there is a lot of variety in SUPs to ensure that people of all body sizes can find something that works for them.
The largest across board you will ever come across is 36″ wide.
The wider and thicker the board, the more it helps displace your weight in the water. In general, wider boards are best for people who:
have poor flexibility
are larger in body size
experience a recent hip or leg injury
If you are new to stand up paddleboarding, then consider going with a larger SUP initially until you get comfortable balancing on it.
Once you reach that point, trade up to a thinner, smaller board which will be more lightweight and offer better maneuverability.
What The Best Stand Up Paddle Board Length To Choose?
The thing with board length is that there is not really a one-size-fits-all approach to choosing the best length.
The important thing is that you get a board with a length that is a good fit for your body size (mostly weight).
The reason that this is such a big deal for beginning stand up paddleboarders is that you have to make sure that your board displaces the correct amount of water for your weight, or it will not support you in the water.
If you end up needing a longer board, then you should know that they can be heavier and more difficult to carry when walking to the water (especially in wind) or trying to store in your home or on your vehicle.
So, this is something that you might want to think about before you buy a new SUP.
To give you an idea of some length options, consider these scenarios:
A 10′ to 12′ long board is a good option for paddleboarders who are just looking for a relaxing time out in the water or beginners to paddleboarding.
A 12.6′ or 14′ long is good for people interested in racing or touring, or people who plan to travel for several miles on the SUP. A board of this length is faster than short boards.
Get more maneuverability with shorter boards if you are an experienced surfer who knows how to handle a board out on the water.
What Are SUPs Made From?
The construction materials of stand up paddleboards varies by brand and model.
The most common makeup that you will see for a SUP is an EPS foam core wrapped with fiberglass, carbon fiber or plastic.
SUPs can either be solid or hollow.
For example, if you go with a more high-end paddle board, then it will probably be hollow to give you better performance and to reduce the weight of the board.
If you go with a rotomolded board, then it will be hollow as a result of the manufacturing process.
Keep reading to learn about the different materials that you will encounter when inspecting new SUPs for purchase.
Fiberglass and epoxy over EPS foam: This is the most common makeup that you will come across because it can be used for several different types of paddleboarding.
The weight for thie type of board varies though because the construction techniques differ as well.
For instance, you could get a sheet of wood that is under the fiberglass deck to add durability and stiffness, or an infused epoxy process could be used to make the board's exterior extra tough.
The price range for this type of SUP puts it at a mid-range cost.
Plastic (rotomolded): This is one of the cheapest SUP options out there. For the money, you get an extremely durable board.
Some plastic SUPs are also sit-on-top kayaks, which offers a great value for the money. The disadvantage to this board type is that they are very heavy.
That being said, they do make great boards for families with kids because the board can withstand a kid dragging it across the shore without getting damaged in the process.
Plastic over EPS foam: This is another great value SUP type because you get ultra durability combined with lightweight materials.
That means you get a board that is easy to carry that will last you a long time. The BIC-brand boards are the biggest brand out there that focuses on this type of SUP.
Softtops: Beginners who are worried about falling on the SUP will find this board type to be a great option. You get a SUP with a super tough exterior where the decks are fully covered with a rubber traction pad.
This means that you can easily walk both ends of the board or have your dog with you on the board. In terms of cost, this is a very affordable board type.
However, this type of SUP is rather heavy to carry.
Inflatables: This is probably the cheapest type of stand up paddle board for sale. It offers versatility in terms of the type of paddleboarding that you can do.
Made of PVC with drop-stitch construction, it is surprisingly durable. And, it is very lightweight.
Another benefit of inflatable SUPs is that they break down for compact storage, which makes them perfect for taking on a vacation or for people who live in a small apartment or condo.
How Much Do Stand Up Paddle Boards Cost?
The amount that you will spend on a new hobby is something that you should consider before you ever start shopping around for the necessary gear.
When it comes to stand up paddle boarding, not a lot of equipment is needed, with the board being your main expense.
SUPs range in price from under $500 at the cheapest stand up paddle board price all the way up to over $1,500 for the most expensive SUP for sale.
It is important to remember that most of the cheaper SUPs are made of plastic, which makes them the heaviest SUPs that you can buy.
Go with a more lightweight option though, and you will likely have to spend a little more. The exception to this are the inflatable SUPs.
SUP Accessories
Other gear costs that you will also want to factor in are things like a SUP paddle, a SUP leash and SUP personal flotation device (PFD).
These things are a MUST for paddle boarders. Other items that you may also need include:
water shoes or booties for those rocky beaches and pavement (also good for cold water)
drysuit or wetsuit (good for cold water)
rash guards to protect your arms from the UV rays
wheeled carrying bag for the board
indoor storage rack for your home
a dry bag for your phone or camera
a water bottle
waterproof sunscreen
a surf hat to protect you from the UV rays
paddling gloves if it's cold out or if you want blister and UV protection
One thing to remember is that boards may be able to be used by more than one family member, especially if everyone will not be in the water at the same time.
You see this working with most families where the kids take turns on the SUPs.
Of course, an adjustable-length paddle will be required for board sharing.
7 SUP Tips for Beginners
If you have been to any beach lately, then you've probably noticed that the water is full of people out there on stand up paddle boards.
For those of you totally new to this growing water sport, you might be interested in giving it a try since it looks a bit easier than surfing.
Plus, it looks likes tons of fun, right?
Not to mention, you can totally use your SUP for a bit of surfing as well as flat water paddling.
Before you head out on the water with a rental board or your own gear, check out some of the stand up paddle boarding tips below that will help you have a better time out on the water.
1. It's all about face forward. It's natural for beginners to look down at their feet instead of up at the horizon.
I get it – you're seeing that water rolling over your feet and starting to panic about falling off your board.
Well guess what? For better stability you need to be looking ahead instead of down.
Keep those eyes down and you're certain to fall.
By keeping your eyes on the horizon and focusing on an upright posture, you have more stability and don't have to worry so much about falling off your SUP.
2. You need a leash for your board. Falling off your board is likely to happen from time to time, especially if you are out in some waves.
And when it does, you need to be tethered to your board for safety.
Why? The waves or current can move the board away from you or make it so that you have to swim quite a ways to reach it.
This will get you tired quickly and possibly be a safety issue out there.
Plus, if the waves are really pounding down hard, then the board will help you get back to the surface. U
sing the leash for your board is definitely more important than using it for your paddle.
I suggest getting a paddle that floats so that you can worry about finding it after you get back on your board.
3. Develop strong core muscles for a powerful paddle stroke. When you are out there paddling on your SUP, it is important to do so from your core and not rely on your arm muscles.
This way you well get a lot of power with your strokes without tiring yourself out too soon.
Just know that if your core muscles are not strong, you will have to rely on your arms and you will definitely get worn out quickly.
And that's no fun. To strength up, I suggest doing some yoga planks each day.
4. Hold the paddle the right way. Though it defies logic at first, you need to hold the paddle so that the blade is sloping away from you.
This ensures that you move through the water quickly and with less effort.
And when you're paddling on the left, your right hand will be on top of the grip handle.
And vice versa for paddling on the right.
Strokes should be made by pushing the paddle down in the water and then pulling it back toward the area of your ankle before pulling it back out of the water. 
Doing all this correctly from the beginning makes this entire learning process much easier and make the most of your paddling strokes.
5. Stay safe in the wind. When you're out on your board, the wind can change at any time.
And since you're standing, your body basically acts like a sail and that means that you can drift out to areas of the water where you do not want to be.
If you notice that the wind is becoming an issue for you, just get down on your SUP (with your paddle under your body) and use your hands to paddle like you would on a surfboard.
This will help you stay safe when then winds turn unfavorable out there.
6. Give yourself plenty of room. When learning to SUP, it is tempting to paddle your board out to where all the other SUPers are at.
Don't do this.
You need to give yourself plenty of room to paddle around and to fall without getting hurt or hurting others.
Once you get the hang of SUPing, you will be able to better gauge how close you can get to other paddlers and surfers.
7. Know how to fall. You might be terrified of just the thought of it right now, but falling of your board is inevitable.
Accept this fact now and learn how to fall properly so that you do not get hurt when it happens.
Here's the thing – you need to make sure that you fall away from your board because it is hard and can hurt you if you hit your head on it or the fins.
Sure, if you're using one of the inflatable stand up paddle boards, then it won't be quite as hard but you will won't want to hit it.
Since you should be using a leash for your SUP, falling away from it will be fine because your board will be attached to you.
Common Beginner Paddle Boarding Mistakes
From not holding the paddle the correct way to getting onto the board the wrong way, there are a lot of mistakes that the first time SUPer can make.
Check out the video below to learn how you can avoid making these same mistakes the first time that you go out on the water with your new SUP.
Top image via REI